Owen loves his iPad. It's been a wonderful investment for him. He's learning how to navigate the different buttons, how to distinguish between icons, and how to isolate his touch. The apps we selected for him also expose him to a variety of academic skills.
Exposure is what we desire for Owen. We aren't entirely sure what he is learning and what he's not, as he can't tell us or show us very well. But we want to make sure he has the opportunity to learn what the other kids are learning. We want to expose him to the academics. By picking games that he can play with his siblings (and then practice independently), we help to meet that goal.
So what does he like to play?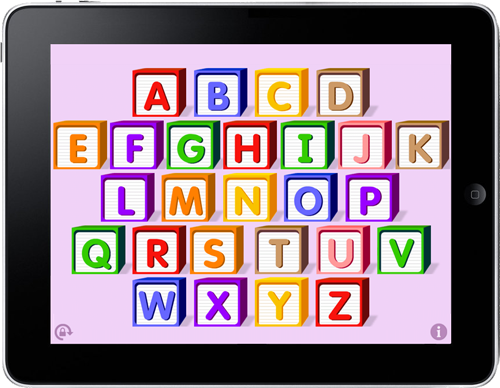 Here are five apps that are Owen approved.
1.Starfall ABC
We enjoy the Starfall website for early learning, and were delighted to discover that they have several inexpensive apps. The ABC app is a favorite. You click on a letter and work through different activities based on that letter and sound.
2. Toca Band
Toca Boca games are delightful. They have fun characters and are very interactive. Owen's favorite of the series it their musical one. There are several characters you can pick and choose from to make a band. Each makes a different beat. By combining them, you can create some interesting music. He plays on this one for long periods of time.
3. Counting Bear
The apps from Grasshopper Apps are highly recommended by our family. They are all completely customizable, and the parent can change the features to make it at just the right level. I can decide the min and max number, if objects need to be touched in order to count, or program my own sounds in.
Basically in this app, a single object appears first. You touch it and it counts 1. Then two objects appear (different from the first) and you touch both of them. It says, 1, 2. And so on. Very good for one-one correspondence and also vocabulary building when Owen plays with others. (Let's touch the horses Owen. How many horses are there?)
4.
Another musical app!This time a freebie. Owen loves the tunes on this one. There are five different games that you can cycle through, and you can touch just about everything, which is perfect for teaching interaction and finger isolation. There are opportunities to match picture cards, put legos together into simple creations, and make a car speed up and slow down. Colors change, weather changes, there is so much to talk about with this app!
5.
Another
Grasshopper App
finishes out this list. This one can be single or double player. It starts off with just a couple of pictures, and gives a word for the picture you need to touch. (There might be a zebra and a pear, and it says, pear.) Building vocabulary is really important, and this is a fun way to do it. I like that it has both one and two player modes. It's a fun one to have Jeffrey or Ellie play with Owen, and then he can practice later on his own.
Are there any apps your kids really enjoy? Or do you have any recommendations for other musical type apps? Owen loves those, and I like to surprise him with new games.
Note: All pics from this post are taken from iTunes.